My sister and I are big Pad Thai fans. The classic dish doesn't have as many vegetables as this version that I made last night, but we decided that we liked the larger veggie-to-noodle ratio. I kind of combined two recipes to make this - actually I literally combined them. I highlighted what I liked in each one and worked from both as I cooked. I would recommend reading through this entire recipe before you begin - I have a bad habit of not doing that :p
Another note - I just decided to use Annie Chun's Pad Thai Sauce for my recipe, but I will post the recipe Alton Brown's version provided for the sauce. Annie Chun's tasted great, but next time I think I will give homemade a go.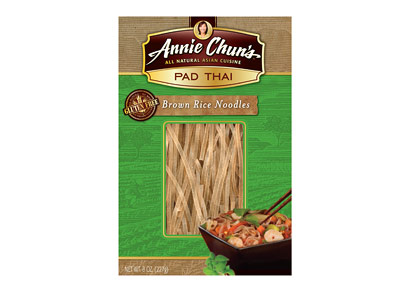 If you aren't going to make homemade sauce,
I would definitely recommend Annie Chun's - and any
other sauce or ingredient of this brand!




Vegetable Pad Thai
Adapted from Alton Brown's recipe at foodnetwork.com and a random online recipe
Serves 2
For the sauce:
1/3 C Annie Chun's Pad Thai Sauce
OR
1 oz. tamarind paste
3/4 C boiling water
2 Tbs. fish sauce
2 Tbs. palm sugar
(I've read that you can use brown sugar but that palm sugar is worth looking for)
1 Tbs. rice wine vinegar
For the rest:
4 oz. rice stick noodles
6 oz extra firm tofu
low sodium soy sauce
1 tsp. Chinese five-spice
2 eggs
1 C. chopped scallions
2 tsp. minced garlic (2 cloves)
1 Tbs. minced fresh ginger
half a red bell pepper, sliced thinly into strips
1 C carrots, cut into thin matchstick pieces
3 oz. bean sprouts

1/2 C crushed peanuts
3/4 C fresh chopped fresh cilantro
First, cut the tofu into 1/2 inch strips (I like them cut to about 1 inch in length) and place it in a shallow bowl. Sprinkle about 1/2 C soy sauce over it (or more or less as you prefer) then toss the tofu in the Chinese five-spice powder. Allow it to marinate for as long as possible.
If making your sauce, put the tamarind paste into the boiling water then set aside. Whisk the remaining sauce ingredients in a separate bowl and set that aside as well.
Place the noodles in a large bowl of hot water and leave them for about eight minutes before straining.
If making your own sauce, Alton says to "press the tamarind paste through a fine mesh strainer and add to the sauce." Whisk the sauce ingredients to thoroughly combine.
You will want to cook your tofu and eggs before starting the stir fry. For the eggs, simply whisk them in a small bowl then scramble them in a pan with butter. Set them aside. Clean the pan for the tofu and add about one tablespoon of olive oil. Heat on high and add the tofu, shaking the pan constantly to keep the tofu cubes moving. Cooking the tofu shouldn't take long- just until it is golden brown or about two or three minutes. Add the tofu to the eggs.

Finally, heat some olive oil (or peanut oil or sesame oil) in a large skillet or wok. Add the garlic, ginger, and scallions and saute about 30 seconds. Add the carrots, peppers, and snow peas. Cover and allow to cook for about 5 minutes, mixing regularly until the veggies are just tender. Add in the noodles, sauce, and bean sprouts, as well as the cooked eggs and tofu. Toss all of the ingredients, then cook until the mixture is heated through.

**You may find that the noodles will not completely mix with the veggies, but that is normal. You may just have to pick out all of the goodies when you serve it **

Toss in the cilantro and sprinkle on the peanuts. Serve (I would recommend using pasta tongs) and enjoy!